This is Jessica and Joel.
Adorable, right?
Back in November, though not engaged, Jessica and Joel were kind enough to partake in a portfolio-building couples' photo session for me in Clovis, California. I had, just prior to that session, began researching the concept of experiential photography, as it pertains to couples' sessions. To put it simplistically, experiential photographers put just as high a value on the experience of being photographed as on the images produced from that experience. I hadn't really discussed the concept with Jess and Joel (other than the few minutes we had on the ride to the shoot location), as the session was somewhat impromptu and, quite frankly, I had no precedent with which to base just how impactful this type of session would be. Huge mistake. It. Was. A. ROLLERCOASTER. They laughed. They wept. They danced. They played. They held each other. They gazed. They shared their honest emotions. They experienced.
After that very raw and emotional photo session, I was convinced that the genre of experiential photography was something that resonated with me not only in theory, but also in practice. Though, I was also convinced that to create an authentic, meaningful, extraordinary experience for not only two people in love, but also for a seasoned family, or even a person entering into the exciting and frightening realm of new parenthood, I had to prepare. Prepare my clients? Sure. Providing more information regarding the experiential genre and my take on it would most certainly be beneficial. But, also, prepare myself. Prepare myself for the range of emotions and subsequent actions that could potentially arise from those triggered emotions. You see, to be the conduit by which others are able to tap into their true -- scared, angry, exhausted, anxious, joyous, insecure, confident -- feelings, means tapping into the place within myself where those emotions reside as well. Real deal stuff.
While strolling along the beach one January evening, Joel knelt to one knee, asked Jessica to be his bride (with a pretty spectacular vintage ring, I might add) and, against the pristine backdrop of a California sunset, she said yes. Not long after, they asked me if I would take their engagement photos. I was honored, of course, but also nervous at the prospect, as I recollected the vast array of emotions that bubbled up in all of us during the last photo session. Nonetheless, I emphatically accepted and began the preparation.
The engagement session took place in Berkeley, at Tilden Regional Park. The ambiance of this location was ideal for Jess and Joel's playful, rustic yet modern tastes; we hopped on the merry-go-round (all discovering it goes MUCH faster than we'd anticipated), hit up the Little Farm, and strolled around the gorgeous gardens. This time we went into the session with a clear sequence in mind (the teacher in me created an agenda that was the backbone to our session flow), and I commissioned "interactions" from them to help facilitate a meaningful experience -- ranging from reciting previously unseen love letters to one another (written on their phones, as you'll see in the images) to sharing secret songs they had chosen specially for one another. Tearjerkers. Were the emotions still honest and palpable? Certainly. Well, the flask of rum may've helped with that, too. In any case, preparation was key to navigating those emotions within the framework and setting of an engagement photo session.
Here is a selection of photos from this lovely session: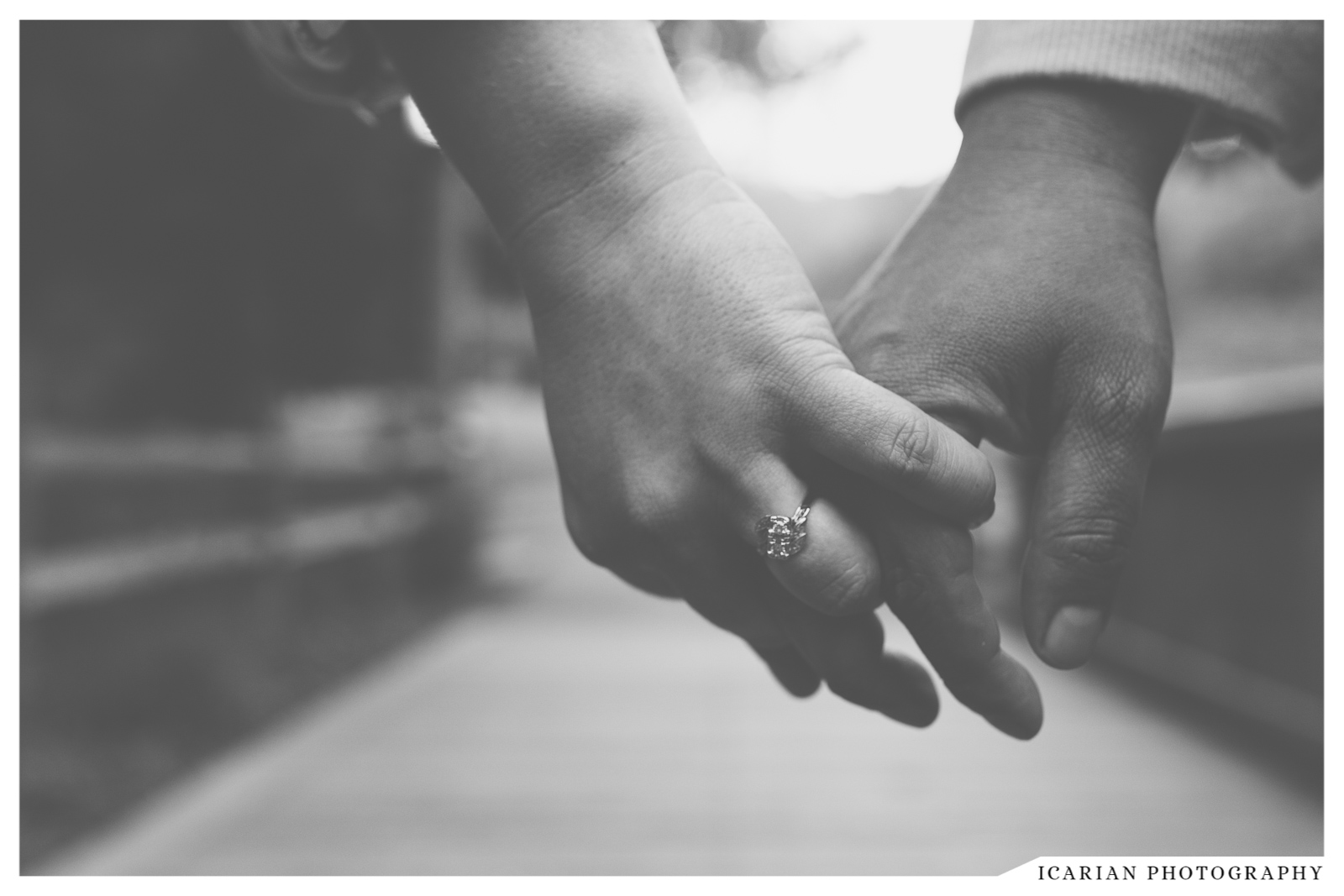 Thank you, yet again, Jess and Joel, for sharing yourselves with me. I look forward to one huge celebration come wedding day!
Special thanks to my assistant for this shoot, Ginger (left☝). You're rad, lady. And really good at furiously flapping a reflector.
Please leave a comment and let me know what you think about the experiential photography concept, this engagement session in particular, or anything else you'd like! Thanks for stopping by.
Take good care,
Melissa